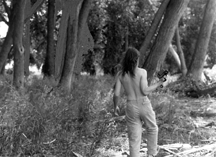 109
Active flux.
Luxuriant growth increasing;
This shows things daily fattening
Imperceptively prospering.
Hear the Oracle!
TSENG increasing in the darkness;
Outside, men are not achieving.
After we had calmed down some, we walked down the beach to look at the other installation. Bob was walking a little ahead and caught a deer on video! They looked at each other for a while, then the deer snorted and bounced away. I'm so glad there's no hunting permitted here. Bob's camera could have just as easily been a hunter's rifle.
The installation had been rearranged by what must have been the deer. Big pieces were knocked around and there were new tracks. Bob readjusted it a little and we walked back for a picnic.
When we got back to our campsite we found the place overrun with 4th of July campers. This is a drag for me because I was enjoying our privacy and these folks are so high-energy, setting up mobile homes and racing motorboats between the trees and scaring the ducks and geese away. The killdeer would never stop crying. Guess we'll just have to grit our teeth until the 4th blows over. I sure hope that our really private spots at Big Alice and Winter's Creek Lake stay secluded!