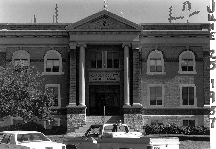 94
Passing through the gate, are broken off.
Entering, to reach that other Center.
The next morning, I could tell that Bob was excited. He seemed just like a little boy to me. We had breakfast in Oshkosh at a diner that looked like it might have looked back in the fifties. Bob told our very young waitress that he was born here and had come back to see it. She gave us a strange look and said that she couldn't understand why anyone would come way out here just to see Oshkosh. We asked the elder waitress/manager if she knew any Starkeys. A Mr. Starkey had been friends with Bob's father when they had worked together on a seismograph crew. Bob's family left when Bob was only 6 months old. His mother put her foot down then and said that she wasn't going to raise three kids in a trailer. They had lived in a trailer for 13 years. Bob was born here 37 years and two days ago.
The waitress talked to an older customer who had been living in Oshkosh at least since that time. He remembered some Starkeys that had moved away. Both the man and the manger gave us some endearing looks.
We spent the next couple of hours seeing the "sights" of Oshkosh. I aimed the video camera out the window of the van and gave a running commentary as we drove around the hospital where Bob was born. We also videoed and I took some photographs of the Garden County courthouse where Bob tried to get an official birth certificate. He was only able to get a form which he would have to fill out and mail back to them.